There are many ideas, images and guidance articles online and in the media when it comes to rear extensions. The expert team at Milbarn Construction know this only too well, yet it can be difficult to decide on the exact extension to update your home – adding space and functionality is something we carry out for our clients on a regular basis.
Looking through the previous extension projects we have completed can change the idea that you have already. Options could include wall to floor windows, a cubed extension that brings your garden into the home, kitchen extensions that open up to the outdoors and many other different ideas are available to you, the home or property owner.
We are able to add rear extensions, team them with side return extensions and add vision to your project by communicating well with you to discover exactly what suits you, suits your home, and adds space for those looking for modern design or traditional additions. If you are looking to extend the property to suit a growing family or simply want to change your space so it is functional then we can help. If your home doesn't currently work for you, yet you love the location and have room at the back of the home to extend then we can assist.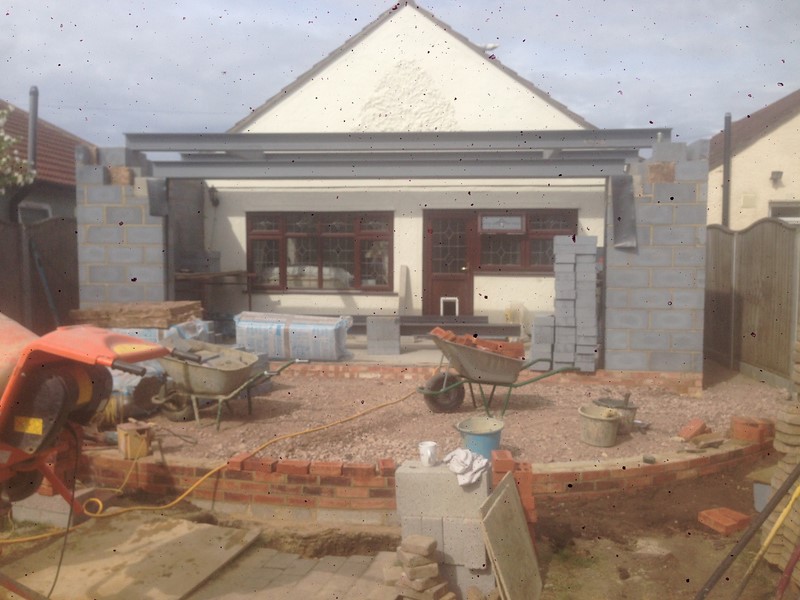 Whether your home is a beautiful traditional terrace with garden to extend into, or a large modern detached property with plenty of land, then our team will help to design and plan a rear extension. We'll help to select the best materials to get the finished look that you desire and then we'll construct it within the deadline we promise (weather and elements permitting.)
Excellent Value – Don't Move, Add a Rear Extension
Here are a few ideas and a little advice whilst thinking about adding a rear extension to improve the look of your home, create more space and enjoy your surroundings and how well your house can function:
Expect to pay anything within the region of between £20k to £70K depending on the size of the extension and the finish required
Remember to have at least a 10% contingency in place for any issues that come up
Think about extending across the entire back of your home for maximum space
If you would like an orangery style conservatory that flows with the rest of your home think about how contemporary or traditional you want it to be
Perhaps you want to convert an existing garage or attached outbuilding and extend outwards into your garden – the space is important for your long term use and for your property's resale value
A single storey extension can create substantial space at approximately £1,500 per sqm
Double storey extensions offer more value for money as they use the same foundations and roof as a single storey extension
An extension projecting no more than 4 metres from a detached building and 3 metres from the wall of an attached property may be constructed under PD (Permitted Development)*
You can completely transform a terrace or end of terrace home with a rear extension, remember the costs of interior design and the finished piece when the construction is completed
When you have a rear extension constructed it isn't only the foundation and other build costs that need to be considered. You may end up wishing to remodel the rest of the home to to suit the new décor you may choose for the rear extension. Whatever the case – whether you are looking at adding a single storey and converting your kitchen or you are creating a two or three storey extension to the rear to create extra space across the entire property, we are experts in our field and can help you with planning and design. When the time is right we'll get together and work closely with you throughout the entire project.
Our team look forward to assisting you with your proposed project.
*Always check with your local authority regarding restrictions where existing extensions, conservation areas and AONB (Areas of Natural Beauty) are concerned