5 Aug
Professional Plaster Boarding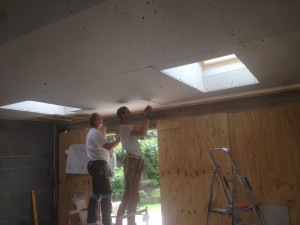 If you're renovating your private or commercial property and need a team of professionals who can plasterboard both walls and ceilings, you've come to the right place. Here at Milbarn Construction our team of experts have much experience in renovating properties in Essex, providing our customers with good quality plaster board and plastering for that much desired professional finish.
The best thing about using Milbarn Construction for your plaster boarding is that we too have a team of highly skilled, professional electricians and plasters that can help put together the finishing touches to your project. Our friendly tradesmen offer free, welcomed advice and can assist you when choosing the right plaster board to best suit your budget.
Like plastering, fitting plaster board requires great skill and is a task that we suggest you leave to us, the professionals. If your plaster board has been fitted in the wrong position or happens to cover important pipe or electrical work, you could then have to tear it away to gain access. The last thing anyone wants to do is damage the structure of your property by removing wrongly fitted plasterboard. Plasterboard that fails to fall in line with the structure of your ceiling or wall can cause the plastered finish to look uneven.
Types of plasterboard:
4 in 1 plasterboard – This is the perfect combination of fireproof, waterproof and impact proof and also functions as a day to day plasterboard to be fitted to any wall.
Impact plasterboard – This plasterboard has a very dense core and is perfect for preventing those day to day knocks which can look unsightly. Also prevents need for filling and painting over the knocks in the plaster.
Water resistant board – This type of plasterboard has water repellent additives in its core and is a perfect base for tiling wet areas such as bathrooms and wet rooms.
Fire board – This contains glass fibre within its core to protect against fire.
Sound reduction/acoustic plasterboard – This has a much higher density core and is great for soundproofing your property.
Here at Milbarn Construction we have two methods of fitting plasterboard:
Daub bonding – when a wall is too damaged to plaster or fill, we stick plasterboard to the damaged wall using plaster as an adhesive and then plaster over it.
Taping and jointing- screwing plaster board to the new wall structure (usually to stud walls) then taping boards at the seams for a flush, professional finish.
Our team of professional and highly skilled tradesmen can create beautiful walls and ceilings for you with our range of services that include:
Plaster boarding
Plastering
Painting and decorating
Coving and cornice
Architrave and skirting boards
If you're in need of a team of professionals to fit your walls and ceilings with plasterboard, or need Milbarn Construction for any of the above services, give us a call on 01708 545110 today. We can visit your home and give you a free, non obligation estimate!